Dynamo MC™ is a step-by-step MLS import tool that fully automates the completion of the Fannie Mae 1004MC form and generates impressive charts and reports for your appraisals.
Easily complete the 1004MC form on every appraisal
Features:
Fully Automatic – Automatically populates the entire 1004MC form with just a few clicks.
Fast – Learns and remembers your choices to streamline your work.
Easy– Once properly set up, you'll spend most of your time just clicking the "Next" button.
Customizable– Includes a powerful editor that allows you to customize your comments and allows them to automatically change with the data.
Compatible– Works with TOTAL appraisal software and any MLS System. Simply import your data as a CSV or Excel file to begin.
Charts– Amaze your clients with over a dozen captivating charts.
Reports– Inform your clients with predefined reports to include in your appraisal report.
Regression Analysis– Built-in regression analysis allows you to meet requirements for more clients and accept more assignments.
Advanced Trend Lines– Select from linear or polynomial regression lines to describe your market, or let Dynamo MC automatically choose the best trend line for your data.
Workflow Screenshots:
A step-by-step example use of Dynamo MC™ in pictures
Step 1: Load your data as a .CSV or .XLS file

Step 2: DynamoMC™ selects your columns

Step 3: Choose your effective date and edit row data if needed
Step 4: Review trend calculation results
Step 5: Select optional charts
Step 6: Select optional reports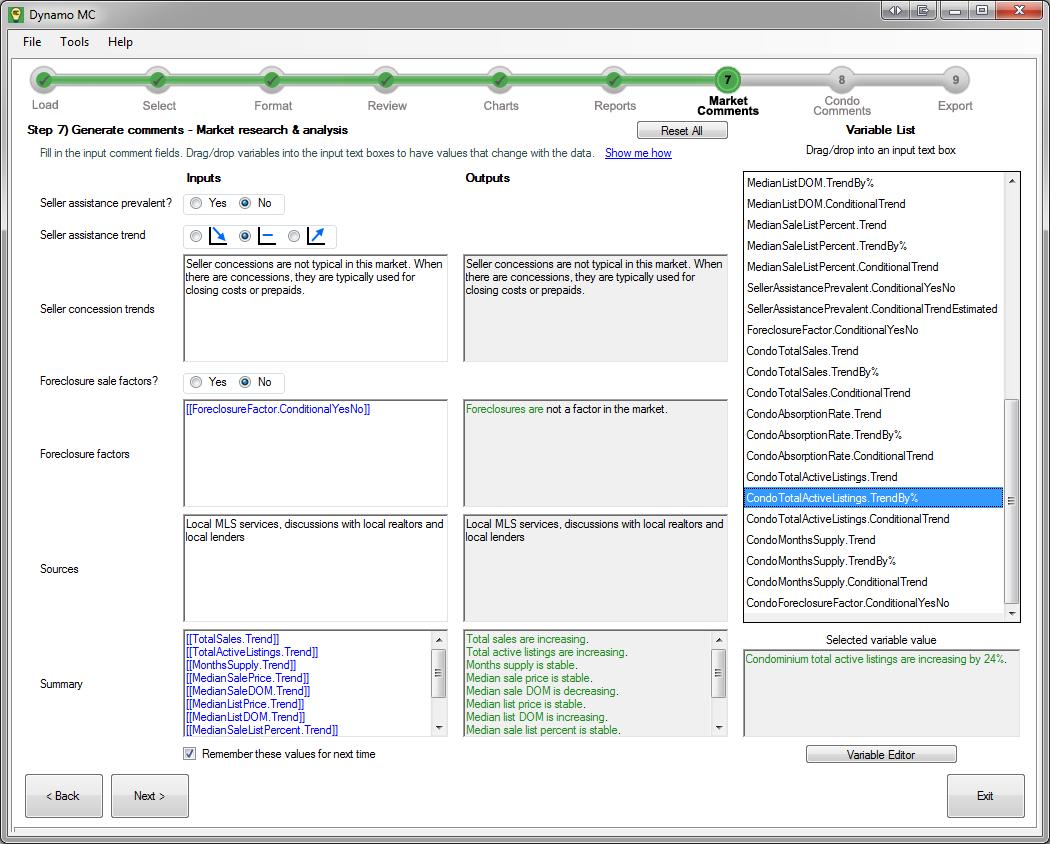 Step 7: DynamoMC™ generates initial market comments
Step 8: DynamoMC™ generates initial condo comments (when applicable)

Step 9: Select sections to export to your appraisal report
Output Screenshots:
Sample output generated by Dynamo MC™ in pictures
Completed 1004MC Form
Completed URAR One-Unit Housing Trends Section (Page 1)
Completed URAR Neighborhood Section (Page 2)

Chart Sample 1 (Dynamo Palette)
Chart Sample 2 (Stainless Palette)
Chart Sample 3 (Glacial Palette)
Chart Sample 4 (Traditional Palette)

Chart Sample 5 (Spreadsheet Palette)
Sample Report - Express Summary
Sample Report - 1004MC Trend Summary
Sample Report - Market Regression Analysis

Sample Report - GLA Regression Analysis
Sample Report - 1004MC Trend Worksheet
Sample Report - Comparables Considered
Sample Report - Comparables Included

Advantages of using Dynamo MC™:
Dynamo MC™ is the easiest and most powerful 1004MC solution on the market. Here are a few reasons why:
Fills in the entire 1004MC. Other solutions on the market can fill in some of the 1004MC, but Dynamo MC™ can populate the entire form in just a few clicks.
Works with TOTAL appraisal software. Directly import your results into TOTAL or WinTOTAL.
Works with any MLS. Dynamo MC™ can accept data from any MLS system in the United States, provided they make their market data available for download.
Supports multiple file formats. Text Delimited (.CSV), Excel (.XLS, .XLSX) and pasted text are all supported ways to enter your data.
No need to clean your data files prior to loading. Dynamo MC™ can find the columns it needs regardless of the order in your data. You can also tell Dynamo MC™ to ignore any rows you consider invalid without having to edit your data in Excel.
Includes Dynamic Charts. Dynamo MC™ can generate over a dozen intriguing charts that you can use to impress your clients and tell a story about your market. These are all created automatically, so you get an added bonus that makes your reports look better than your competitors without having to do any extra work.
Includes Dynamic Reports. Dynamo MC™ can also generate a number of predefined reports to include with your appraisal. These include mathematical summaries, a listing of all properties included in the analysis (for when the AMCs call to request this information), and regression analysis using your data. Just like with charts, these are automatically generated for you, and will save you lots of time if you are already having to do any of these yourself.
Performs regression analysis. Dynamo MC™ is able to perform simple linear and polynomial regression analysis on a variety of metrics. The goal is to identify and predict trends among these metrics in your market data. This may even allow you to start taking on assignments that require regression analysis be performed. ( Please note that regression analysis is only a statistical tool, and should not be relied upon to support an appraised value without experience performing regression analysis. This tool should not be used without an understanding of the statistical methods used and the required competency in the market to determine the applicability of the analysis. ) Regression analysis can be performed on the following metrics:

Sale Price
List Price
Sales Days on Market
Discount Percentage from List Price
Sale Price per Gross Living Area
List Price per Gross Living Area
Sale Price vs Gross Living Area
List Price vs Gross Living Area

Dynamically generates comments. No other solution on the market offers you the power to automate your 1004MC comments like Dynamo MC™. This feature lets your comments remain accurate as the data changes. A powerful editor allows you to customize what your comments say as the data trends change without having to edit them each time. ( Always inspect the comments and add what is needed manually to ensure you are in compliance with USPAP. No application can ever replace an appraiser's expertise.)
Learns the column and status names your MLS uses. Dynamo MC™ can identify commonly used names for columns/statuses out of the box. In the event that your MLS uses different names, Dynamo MC™ can learn these and automatically select them in the future so you never have to identify them a second time.
Recognizes all major statuses (Active, Sold, Pending, and Inactive). Most other solutions ignore inactivated listings, but Dynamo MC™ can be consider these as active listings in in time periods in which they were active. This means that you will have a more complete picture of the market, and may even have more comparable listings available for analysis on difficult assignments.
Recognizes old listings. Appraisers know that older listings (prior to a year before the effective date) can be easy to miss in most MLS systems. Dynamo MC™ can consider older comparable properties that were listed long ago, but still remained active during the relevant time period. Just extend your comparable search backwards in time, and import your results. Dynamo MC™ will automatically include or exclude these listings in your analysis based on the relevant dates.
Accurately determines time periods. Most other solutions simply treat a month as "30 days" or cut corners when doing date calculations. Dynamo MC™ always knows the exact number of days in a month/year, and performs time calculations the way an appraiser would if doing them by hand.
Not based on worksheets. When using someone else's Excel file or another worksheet solution to calculate your 1004MC data, you risk accidentally modifying the worksheet every time you use it. You may inadvertently insert an error into the worksheet and not realize it until much later, calling hundreds of your appraisals into question. With Dynamo MC™, you will never have to worry about accidentally breaking the calculations that are being performed.
Sample Output:
You can see the sample reports (available as PDF documents and TOTAL ZAP files) that Dynamo MC can produce at our sample output page.
You can also see samples of the charts and reports that Dynamo MC can easily create for you.
Pricing:
Dynamo MC is available through the TOTAL Store on a pay per use basis and also with an unlimited usage subscription.  A free 3 report trial is available.
More information can be found on our pricing page.
Free Trial Available:
We want you to fully evaluate Dynamo MC™ before purchasing, so we have made a free trial available for you. We're convinced that you'll see an immediate benefit in your appraisals, and will want to replace your current 1004MC process right away. Start saving time and producing better results on every appraisal with Dynamo MC!